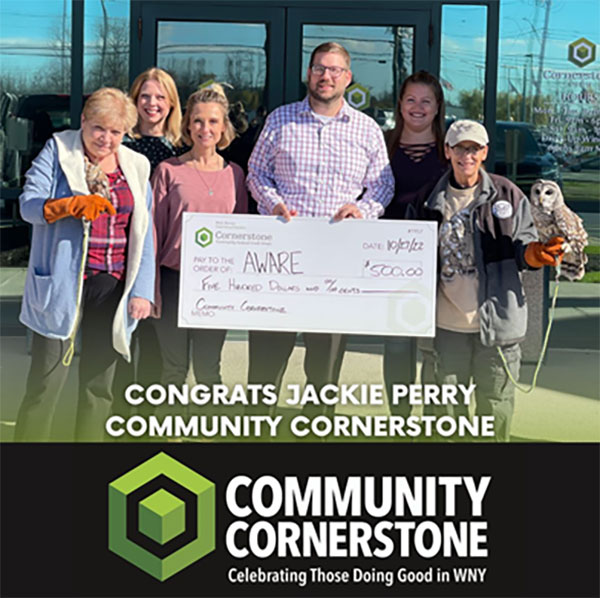 Awards
Community Cornerstone Recipient
October 2022
On behalf of Cornerstone Community Federal Credit Union and 106.5 WYRK, we congratulate this month's Community Cornerstone winner and animal advocate, Jackie Perry!
The founder and president of AWARE, a local nonprofit committed to rescuing and caring for orphaned, injured, or distressed wildlife, Jackie has been rehabilitating our two and four-legged friends throughout Erie and Niagara counties for the last 33 years!
AWARE was the first licensed wildlife rehabilitator in Niagara county that prides itself on its compassionate and educational approach to providing resources to the community about the ongoing hazards to our wildlife. Jackie has worked tirelessly connecting with schools, clubs, and organizations to educate and engage the community, bringing awareness to the current WNY environment and providing tips to improve our behaviors to create a safe place for our outdoor friends. Jackie's knowledge and compassion have saved countless animals and provided permanently disabled birds with forever homes, helping them survive in a domesticated environments through rehabilitation and care.
Congratulations on this well-deserved award, Jackie! We truly appreciate your devotion to keeping our wildlife safe and your continued efforts to provide resources to the Western New York community on ways we can help improve our environment!
In partnership with Country 106.5 WYRK and BriteSmith Brewing, we are seeking nominations to reward an individual's passion for our community. Our monthly winner will receive a $500 donation to the winner's favorite cause, and a $100 dinner gift certificate to celebrate! Think of a worthy recipient and nominate them for the Community Cornerstone!